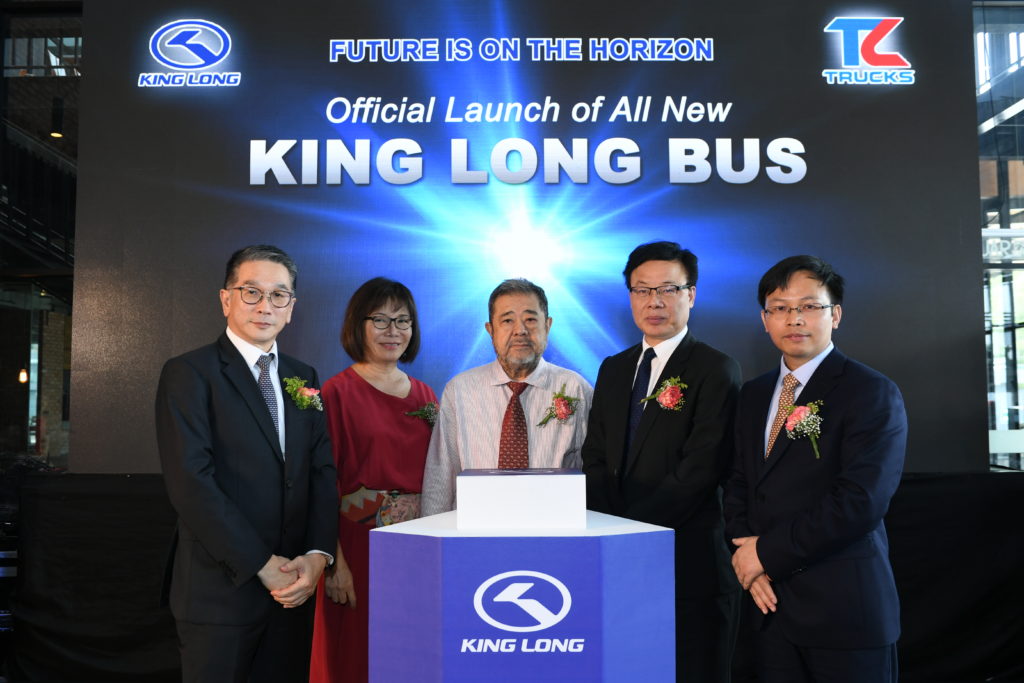 Selangor, 8 March 2019 – TC Trucks Sales Sdn Bhd ("TC Trucks Sales"), a subsidiary of Tan Chong Motor Holdings Berhad ("Tan Chong Motor") has scored another milestone in its business recently with the Malaysia launch of the new King Long XMQ6120AS bus chassis by China's Xiamen King Long United Automotive Industry Co Ltd ("King Long"). Available in two chassis variants, namely the premium XMQ6120AS-P and standard XMQ6120AS-S specifications, this new bus is aimed at fleet owners and tour and travel operators.
The well-attended launch event was graced by Dato' Tan Heng Chew, President of Tan Chong Motor Holdings Bhd and Simon Xie Wei Guo, Director of Overseas Sales and Marketing, Xiamen King Long United Automotive Industry Co. Ltd.
King Long specializes in the design, research and development, manufacturing, and sales and services of large and medium-sized buses, coaches and minivans. With three large manufacturing bases in China, King Long is one of the largest bus and coach manufacturers and produces more than 20,000 buses and coaches, and 30,000 mini vans annually.
The launch of the new King Long intercity express and tourist coach chassis was the first bus chassis to be introduced following TC Trucks Sales' appointment in June 2018 as the sole and exclusive distributor, assembler and aftermarket service provider of King Long coaches and buses in Malaysia.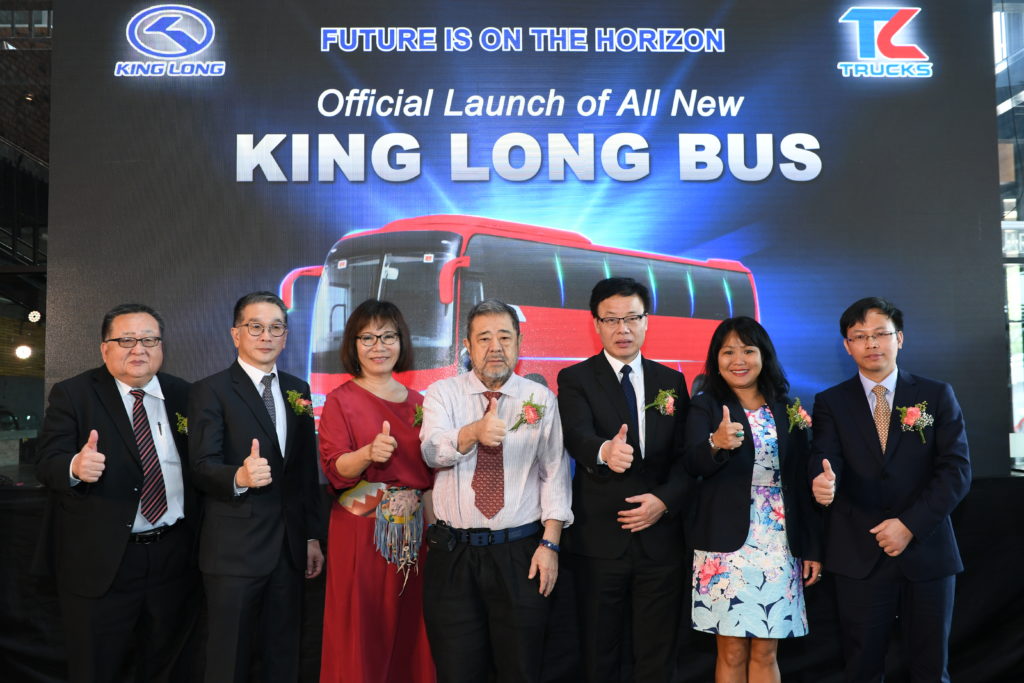 Tan Keng Meng, Head of Tan Chong Group Truck & Bus Business Division, said at the launch, "The new King Long XMQ6120AS bus chassis is designed to provide customers with reputable and reliable bus chassis solutions for various applications to meet our customers' business demands. It offers excellent innovation for efficient mobility and better move, and we are very confident this is the bus chassis that will set new benchmarks in bus performance, comfort, reliability, durability and safety, which is a highly essential aspect in the bus industry.
"TC Trucks Sales is extremely delighted to partner with King Long as the sole and exclusive distributor in Malaysia. The introduction of this new bus chassis marks a key milestone for us. Leveraging on our extensive network of branches, quality aftermarket services and capabilities offered within our group, we are confident that we can bring success to the King Long brand and market presence here," added Tan.
Built with high quality engine, the XMQ6120AS-P premium variant chassis is powered by a Weichai 400-horse power engine with ZF's 6-speed automatic transmission. This powerful engine with low speed and high torque boasts two great features which are dynamic performance and lower-than-estimated fuel consumption. In addition, the complete noise, vibration and harshness (NVH) map optimization provides excellent comfort and deluxe experience to both driver and passengers.
Meanwhile, the XMQ6120AS-S standard variant chassis is equipped with a powerful yet lighter-in-weight and compact-in-size Cummins 375-horse power engine with a fast 6-speed manual transmission. This highly flexible power choice also has a fuel-efficient 8.9 litre configuration. With a lighter weight than competitive engines, operators benefit from high performance, strong acceleration, fuel economy and lower operating costs.
Simon Xie Wei Guo, Director of Overseas Sales and Marketing, Xiamen King Long United Automotive Industry Co. Ltd. said, "The new King Long XMQ6120AS bus chassis is one of our latest innovations offering efficient and reliable mobility solutions. King Long is one of the world's largest bus and coach manufacturers with over 30 years of experience in professional bus and coach manufacturing, with an annual production capacity of 50,000. We own top-notch enterprise technology centers, post-doctoral research stations, safety and energy testing centers and institutions, and we are fully committed to creating products that meet global market demands."
"King Long's products have been exported to more than 180 countries and Malaysia is one of the important markets for us in this region. TC Trucks Sales has made a lot of efforts and we are proud that they are our partner here. We believe that in the longer-term future, this partnership will help to introduce more King Long bus products in Malaysia," added Xie.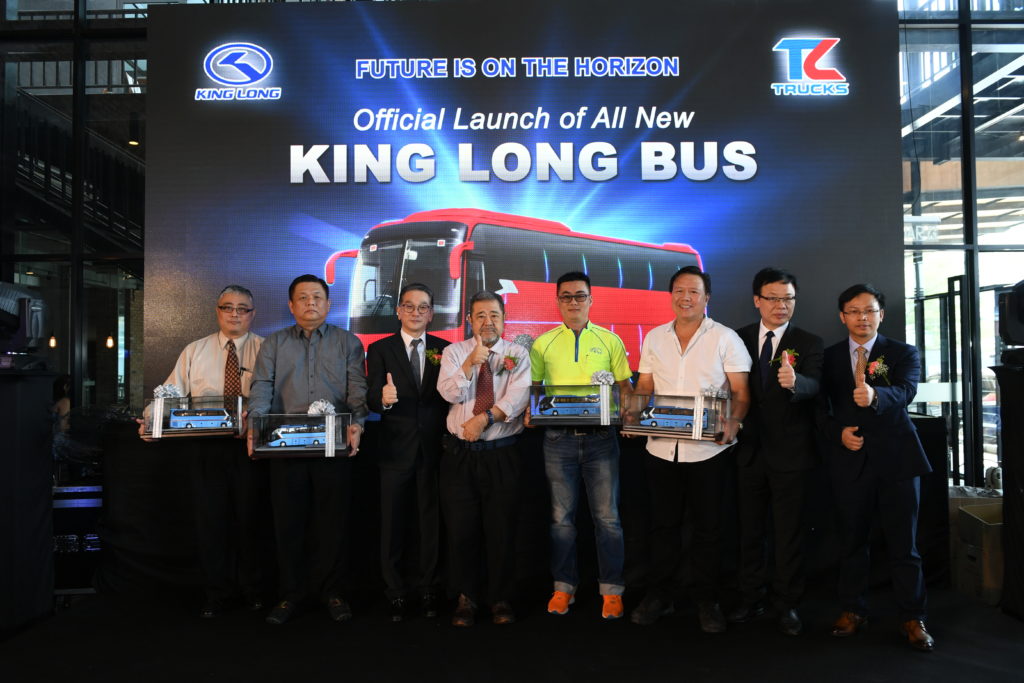 The new King Long XMQ6120AS bus chassis has undergone stringent tests in accordance with global standards. The bus is fitted with a speedometer that is compatible with the advanced CAN-Bus technology for easy monitoring of all electrical devices and detection of any malfunction details, thus improving safety and reliability.
The bus is also equipped with WABCO's anti-lock braking system or ABS, which is the world-renowned brake control system that prevents the wheel from locking during emergency braking situations. ABS is a highly important system as it helps commercial vehicle drivers to maintain stability of the vehicle and to bring the vehicle to a complete stop within the shortest possible distance and in the safest possible way, thus delivering greater safety.
Other safety features built into the bus include full air brake, front disc brake, six air bags and speed limiter function that has been set at 90 km per hour, in accordance with the regulation set by Road Transport Department, Malaysia.
Built with both the driver and passengers in mind, the bus has full air suspension feature for enhanced comfort. In addition, the bus was also designed to provide a good driving height for better drivability, stability and comfortable rides.
The new King Long XMQ6120AS bus chassis is now open for bookings. In conjunction with the launch, TC Trucks Sales offered a promotional package which include RM8,000 rebates on bus chassis with three free maintenance service for parts and labor for the first 40 units booked, which 19 units are sealed and sold to four customers namely Five Stars Express Tour & Travel Sdn Bhd, Mayflower Car Rental Sdn Bhd, Pioneer Coachbuilders Sdn Bhd and Siang Malam Travel & Express Sdn Bhd.
In addition to TC Trucks Sales' comprehensive aftersales support throughout Malaysia, customers who purchase the new bus chassis will also enjoy a warranty of 2 years or 200,000km, whichever comes first. Customers can contact TC Trucks Sales at 603-61891896 for more information.